Since 2015, Karma supported the medical treatment of 120 patients with the diagnosis of cancer in different hospitals, including The Lebanese Hospital Geitaoui – UMC, Rafik Hariri University Hospital and American University of Beirut Medical Center.
Current patients:
To date, Karma is supporting the treatment of 6 pediatric patients with cancer in Rafik Hariri University Hospital
Youssef's chemotherapy treatment was supported by Karma for two and a half years. He still never lost his smile. Youssef has been cancer-free for six months and is enjoying his life with his family. Youssef never lost his smile.
Milan was diagnosed with Neuroblastoma when she was just one year old. She was treated for one and a half years. Her chemotherapy, bone marrow transplant, and radiotherapy were supported by Karma in cooperation with ASCAL- Acute Support for Children and Adolescents in Lebanon. Today, Milan lives in Canada, goes to school, and is healthy.
Aisha is now six years old. She was treated twice for Wilm's tumor and Karma supported her treatment when she relapsed in July 2016. Aisha is now cancer-free. She is a happy and energetic child, leading an ordinary life. Aisha is now cancer-free!
Souheila was diagnosed with Acute Lymphoblastic Leukemia and was treated under Karma's coverage for a year and a half. Souheila is now in Sweden, continuing her treatment there.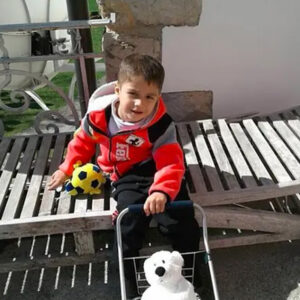 Mohammad was diagnosed with Leukemia in 2016. He was supported by Karma and our cooperation partner, Acute Support for Adolescents and Children in Lebanon- ASCAL for one and half years. In May 2017, Mohammad and his family moved to Switzerland and he continues his treatment in Bern. The picture shows him in his new home. Mohammad has been resettled to Switzerland!
Nanour was our first patient in 2014.Karma supported her treatment for the three consecutive years.Nanour is now cancer-free, enjoying her day with her two sisters.
Abdelrahman was treated by Karma for one year. He has been cancer-free since one and a half years and is enjoying himself by the pool! He is now swimming though life!